United by the All-Welcoming Love of Christ
The Church of St. Michael the Archangel is a family of people who anchor our soul in Christ as we share our lives together. Together we learn, serve, worship, pray and support one another. The waters of Baptism, and a commitment to following the way of Jesus bind us together. In that respect we are committed to opening our hearts and lives to all people who feel called to be part of our community. We hope you will join us and learn more about what it is to be connected to the love of Christ through St. Michael's.
Within the larger Christian community, St. Michael's is member of the Episcopal Church, which is a member of the Anglican Communion, a group of churches all over the world who trace their heritage through the Church of England. To Learn more about what it means to be an Episcopalian CLICK HERE.
Finally, we would like you to know that St. Michael's is an enthusiastic, friendly, caring, compassionate church, which has a heart for Christian community and service. Here you will find many opportunities to be connected to God and each other. If you have a hunger to grow in the Christian faith and walk hand in hand with other disciples of Jesus, we welcome you and invite you to share in our life together.
Interim Rector
Email Rob
Originally from New Zealand, Fr. Rob is a vocational interim priest with degrees in Mechanical Engineering, Divinity, Counseling, and Psychology (Psy. D., Fuller Theological Seminary). He has numerous publications to his credit, including a range of Appreciative Inquiry-based resources. He most recently served St. John's in Charlotte, NC as their interim priest. His personal mission is to be "helpful, humorous, and healing." He will be with us until we call a new permanent rector.
Click the link above for more information on our search process for a new rector.
Assistant Rector ext. 306
Email Judith
Prior to coming to St. Michael's, Rev. Judi served as Assisting Priest and Office Manager at St. Stephen's in-the-Field in San Jose, California. She also served as Deacon at St. John the Divine in Morgan Hill, California.
A native of Ventura, California, Rev. Judi has also lived in Bethesda, MD, Kent, WA, and Hillsboro, Oregon, where she and her husband Rod raised their family. She received her undergraduate degree from Colorado State University in Animal Behavior. Rev. Judi attended The Church Divinity School of the Pacific in Berkeley, CA. where she received her Master of Divinity Degree. She was ordained to the priesthood in January 2011 by The Rt. Rev. Mary Gray-Reeves, Bishop of the Diocese of El Camino Real.
Director of Christian Formation ext. 307
Email Joe

Joe has worked as a professional youth and children's minister for more than 20 years. He has served the US military as a youth minister missionary in Europe. He has led numerous pilgrimage experiences for youth and adults. He currently leads smalls groups in Celtic Spirituality as well as managing the Sunday School and youth programming for our parish.
Director of Music
Email Rob
A pipe organist enthusiast from his youth, and professional church organist from his high school years on, Rob later combined those skills with his love of singing, choral music, and studies in musicology, to branch out into choral directing, serving Episcopal, Methodist, and Reformed congregations along the way. After decades of teaching college French, and 30 years as a church organist and choir director, Rob moved to France and was a musical missionary in both contemporary and classical fields, challenged by the "post-Christian" culture (but having no problems with wine and cheese!). Originally from Michigan, Rob arrived 12 years later in Colorado Springs, from France, in 2011, and loves the mountain atmosphere.
Parish Sexton
Email Church Office
Doug has been a member as St. Mike's since 1995. He and his wife and Debbie raised three children in Colorado Springs. Doug has served on the vestry, and has attended Finance Committee meetings for many years. The Swanson's currently attend the 8:00 service, and enjoy the friends they have made at St. Mikes for so many years.
Communications Coordinator ext. 301
Email Church Office
A native Texan, Pam married her high school sweetheart and enjoyed living life wherever the US Air Force took them, especially England. After England, the Air Force took them to Colorado, which they decided to call home after retirement. Pam earned a Masters Degree in Human Relations. Her career background was primarily as a Staffing Specialist in Human Resources. Pam is also an avid scrapbooker and has a frisky, husky named "Blitz", but nothing compares to being her sons' #1 fan at his high school football and baseball games.
Asst to the Rector for Congregational Development ext. 304
Email Church Office
Linda was born in El Dorado, Arkansas but moved to Colorado in 1973. Linda was confirmed at St. Michael's prior to marrying her husband Bob, in 1985. Together they have two children, Chris and Melissa. Both were baptized and confirmed at St. Michaels. Chris is a Major in the Air Force and Mother Melissa is the Associate Rector at St. Peter's Episcopal Church in Rome, GA. Linda has a Therapy Dog, Connor, who comes to the Church on Tuesday when she works on Membership and Volunteer Coordination. Connor also helps during St Michael's week for Interfaith Hospitality Network, greeting all the new families who are staying here at St. Michael's.
Receptionist
Email Church Office
Patricia is an Army Vet, Wife to a 24-year Army Vet, Mother of three, Nana to two. Altar Guild/Sacristan Leader, Daughters of the King- Daughter, Reader, Chalice Minister, Church Receptionist, Member of the Church Events Team, Archangel Mailer, West Point Society of the Pikes Peak Region Founders Day Reservations Co-Chair, Pikes Peak Radio Amateur Association Testing Recorder, Care-giver to 4 fur-babies and NORAD Tracks Santa team. She Loves to cook and read (hopefully NOT at the same time). She is a history buff and closet romance reader.

The History of St. Michael's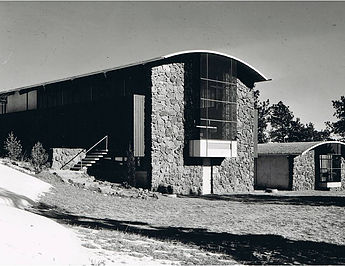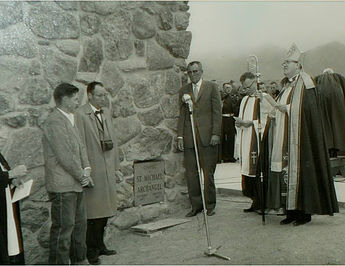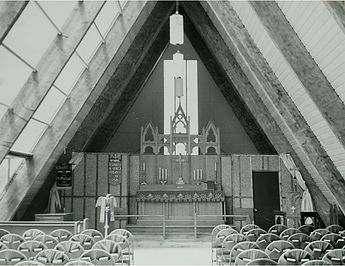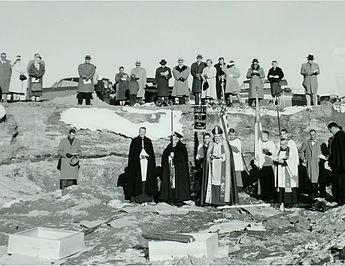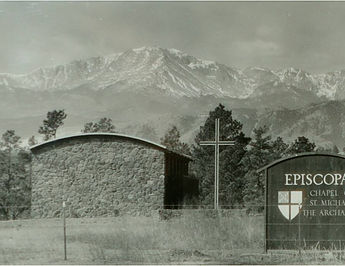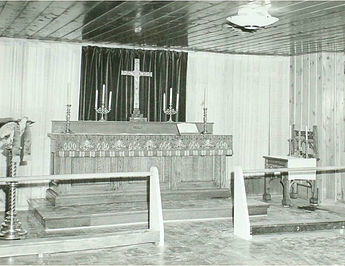 The Church of St. Michael the Archangel was established in 1957 under the sponsorship of Grace and St. Stephen's Church, located on Tejon Street. Dr. Lindsay Patton, the Rector of Grace Church, conceived of a satellite plan for the expansion of the Episcopal Church in Colorado Springs. This resulted in the establishment of three chapels in the East, South and North areas of town. These chapels were started, maintained and supported until such time as they were able to become self-supporting parishes.
St. Michael's was the last of the chapels created in September, 1957. The first service was held in a store on North Nevada Avenue. Two years later the congregation moved to Burgess Road in the Black Forest, where a wooden chapel was built. When a fire destroyed the chapel, services were then held on the Air Force Academy grounds. Property on Tudor Road was then purchased for a new church building. That church was built in June, 1962, and a rectory, located behind the church, followed shortly thereafter. Until 1966, St. Michael's had been under the wing of the Grace Church Vestry. However, in May of 1966, St. Michael's achieved full parish status. The Rev. Richard Palmer became the first rector in 1967 and served in that capacity for sixteen years.
Building expansion has taken place over the years. In the late 1960's, St. Andrew's Hall, a library, nursery and parish offices were added. In 1996, the size of the facility was greatly increased when a new nave was built, along with a gathering area, nursery, bathrooms, a kitchen, Sunday school rooms, meeting rooms and a chapel. A new organ was completed and dedicated in 2004. An extensive landscaping project in the rear of the church took place in 2005. This included a Memorial Plaza, used for outdoor events and a Columbarium and Memorial Garden.
In more recent history St. Michael's has upgraded our facilities, communications, and most importantly solidified our understanding of God's call to us to be an Anchor for the Soul for the people in our community.